You know, there's a super confusing thing when it comes to acting "lingo". 
I just taught a class for a group of actors from a midwest talent agency that came out to LA to do an educational tour.  (Really smart move by their agent committed to helping her talent grow their careers.)  Since we only had three hours together, I decided to give the workshop a sole focus:  A deep dive into playing action or intention.
If you follow me at all, you know how passionate I am about playing intentions in acting.  I chose this topic because it is one of the best ways to take an actor's work from boring to thrilling in moments.  And because intentions usually get left out!
To see where we were at the start of the workshop, I asked the class what they thought an intention or action in acting is.
A beat went by.  Then:
"What the character wants."
Me:  "…Not really."
When I first ask actors this question, ninety five percent of the time they say intention is the character's want.  
Why?   
It's confusing!  The word intention is defined online as "a thing intended; an aim or plan"  so it makes perfect sense actors would think it's the character's want.  But in acting, what the character wants is referred to as objective.  
I felt myself start to get excited–positive our time will be very well spent.  I explained:
What the character wants (their objective) is directly related to intention, but it isn't intention.  It's part of the triad of acting. And actually, the online definition "aim or plan" fits right in to how intention works.   
In order to find an intention to play, you do in fact need to know what the character wants.  Then you figure out what's in the way, or what your character's obstacle is.
Now you're ready for intention or action–you need to do something to break through the obstacles to get them their want.
The Triad of Acting:
OBJECTIVE >> What do I want?

OBSTACLE >> What is in the way of that want?

INTENTION >> What am I going to DO (what's my "plan") to break through the obstacles and get my objective/want/goal?
Here's an example.  Let's say your character's "want" or "objective" is to convince your friend that your dog Odie did not, in fact, tear up their new sofa.  Perhaps the obstacles to convincing your friend are:  their conviction that your dog did it, the fact that everyone knows your dog loves tearing things up and that your friend's annoying sister said she saw your dog do it.
Now–What are you going to DO (hint: VERBS!!), to break through those obstacles to convince your friend of your dog's innocence?
Your first thought might be "to convince them".  Yeah, ok.  You can do better!  Think active verbs and verb phrases.  What about "to lay out your case", "to plead Odie's innocence", "to belittle them for thinking so low of sweet Odie", "to dismantle the sister's case"…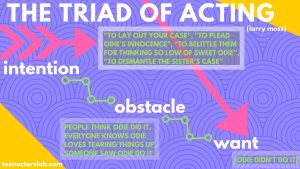 Click here to download The Triad of Acting – intention – obstacle – want
Are you seeing the difference between the character's want and their intention or action?
In the end, it totally doesn't matter what you call it as long as you do it.  Remember those three things in the triad, and you're good to go.
Hope it makes some sense!
Also–whenever you get stuck finding an intention to play (you're always going to first lean toward playing non-result producing verbs like "question", "convince" or "ask") just ask yourself:  What do I want the other character to THINK, FEEL or DO??  Once you determine that, figure out how you can make that thing happen by playing an intention. Make it juicy.
Playing intention matters because if you don't find a way to get active–if you only figure out what your character wants–you'll never drive the scene.  And the audience will go to sleep.  We want to watch you DO SOMETHING.  
You got this!  No go make it happen!  (to inspire into action)